FOF Chooses CKLN For On-Air Advertising!
By Maurice Ali, Journalist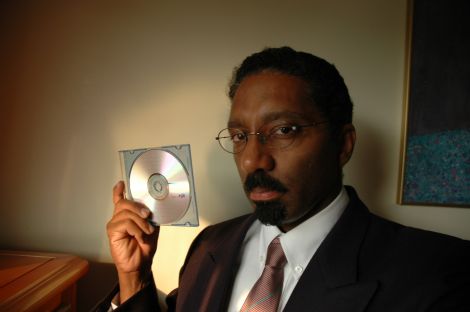 Maurice holding the very first production CD radio advertisement




It is with great pleasure that I announce our first radio commercial is to be broadcast from a Toronto FM radio station called CKLN (88.1 On the FM dial in Toronto). Pending final approval from CKLN management; Fortress Of Freedom Inc./fortressoffreedom.com radio advertising should commence on June 16, 2004.

CKLN Broadcasts from Ryerson University in downtown Toronto. The radio station began it's life around 1978 and got it's broadcasting licence in 1983. CKLN is licenced to broadcast at 250 Watts which covers the Toronto region and parts of New York State; this coverage is populated by several million potential listeners. CKLN is also heard on the internet and a link to the live feed will be displayed at the bottom of this page.

"Our mandate is to provide a voice for the various communities, music and arts, that are not represented in mainstream media." Sound familiar? That quote was from the CKLN information page on their web site (www.ckln.fm), and their mission statement complements what we try to do at this venue; so the match was obvious.





The humble entrance to the Studio (and familiar Mural to the left) in the basement of Ryerson's Jorgenson Hall - A landmark at Ryerson.



I may be telling a bit too much about my age; but I was around when CKLN first began broadcasting in the late 1970s and it is a pleasure to support CKLN today with our meager advertising funds. Check out the radio station, few are like it and I am sure you will love it!





A photo of the CKLN "mural" which greets you as you enter the studio.



I must also add that this report could not be complete without the acknowledgement of our model/performer Emily and Dave Getchel who composed the theme music that was used as the background for the commercial. I would also like to thank all that helped us out in the technical end of production; and also to those who offered moral support to help us finish the project. One more step on the learning curve and one more accomplishment in the life of our organization - A big thank you to all involved!




Here is the link to listen to our audio commercial:


Click Here For The Audio Commercial




Here is the advertising Schedule:


Wednesday June 16, 2004 - 6:45, 7:15
Wednesday June 23, 2004 - 6:45, 7:15
Wednesday June 30, 2004 - 6:45, 7:15




Here is the link to the live feed from CKLN:


http://www.ckln.fm/listen/listen.html




Here is the link to CKLN's Home Page:


http://www.ckln.fm/




Here are the original audio files of our commercial being played for the first time:



First Play


Second Play