TA And TA Trade Mission To Canada!
By Maurice Ali, Journalist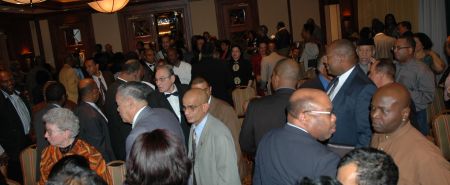 Guests gather at the event!



The Hotel Intercontinental Of Toronto was the scene of the last stop of the Trinidad and Tobago trade mission. The mission was to promote the country's business opportunities and sign business contracts with banks and businesses in Canada. The venue in Toronto was organized by The Consul General of the Republic of Trinidad and Tobago - Mr. Michael G-A Lashley and Mrs. Marisol Vega de Lashley. The reception of business people and nationals met on Friday night, October 22, 2004 at a banquet hall in the hotel. The event was attended by 500 to 700 people who partook in the music, food and refreshments and most important of all.....speeches from high ranking government officials of the Republic of Trinidad and Tobago.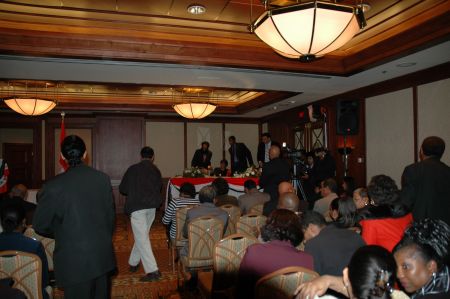 A view at the front of the Banquet hall.



After pleasantries; Mr. Lashley introduced his guest speakers one-by-one. In total, the speeches lasted more than two hours as the guests discussed the economic issues of the small island. Most noted that the country has sustained economic growth for the last ten years and is expected to continue to do so in the future. First up was Ambassador Jerry Narrace.





Ambassador Jerry Narrace



Next up was High Commissioner to Ottawa - Anthony Piggott, who talked about the present, and future economic outlook of Trinidad and Tobago. Anthony also fended off some friendly heckles and and interacted with the happy crowd throughout his speech.





Anthony Piggott, High Commissioner To Ottawa



Last of the main speakers was Diane Seukeran, Minister in the Ministry of Trade and Industry. She talked, once again about the economic situation, but also touched upon events in recent history such as the hurricane that passed though the island nation. At her conclusion of her speech Mr. Lashley concluded the formal part of the reception and the guests of honor mingled among the attendees.



The Honorable Diane Seukeran, Minister
in the Ministry of Trade and Industry



CLICK HERE FOR VIDEO OF THE RECEPTION!



It was at the tail end of the reception that I asked Mr. Lashley for an on-camera interview concerning the reasons for and evaluation of the trade mission. The five minute interview can be heard by clicking the link below Mr. Lashley's picture.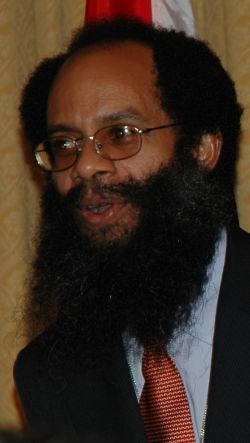 Michael Lashley, Consul General -
Trinidad and Tobago

CLICK HERE FOR AUDIO INTERVIEW!

Sadly absent from the reception was former Miss Universe Wendy Fitzwilliam who had to attend to an urgent family matter back in Trinidad and Tobago. Wendy Fitzwilliam is currently Vice President of PIDCOTT which is an investment group concerned with international trade. All in all, a very informative and festive reception.